There's only 28 working days left to use your dental insurance and Flex benefits for 2017! Many of those days are booked or close to it!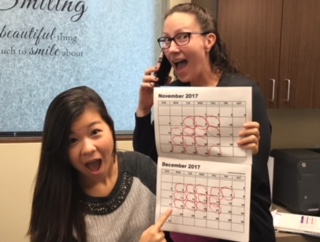 Most dental benefits and Flex dollars do not carry over into 2018 and treatment must be started this year or they are lost.
Scheduling your appointment now ensures that you will:
Minimize your out-of-pocket expenses by taking advantage of any deductibles you've already met in 2017.
Increase possible tax deductions & utilitze remaining Flex $.
Maximize the benefits for the premiums you have paid toward your policy.
Perserve next year's benefits in case of emergencies or other needed treatment.
Take care of your dental problems while they are still small & avoid painful toothaches and more costly/time comsuming treatment.
Please give us a call or email ASAP to reserve your time! (404-255-6782 or rebecca@startsmiling.com)
Start Smiling Dental Holiday Schedule
For Thanksgiving – We will be closing on Wednesday 11/22 at 1pm and reopening on Monday 11/27 at 8am.
We will be open Mon-Fri in December up to 12/22!
Our office will be closed for the holidays as of December 22nd and will re-open on Tuesaday, January 2nd to give our team time with their families.
Check out our new website at www.startsmiling.com!
Start Smiling Dental: 185 Allen Road, NE Suite 150 – Sandy Springs, GA 30328
ph: 404-255-6782 – email: startsmilingdental@gmail.com